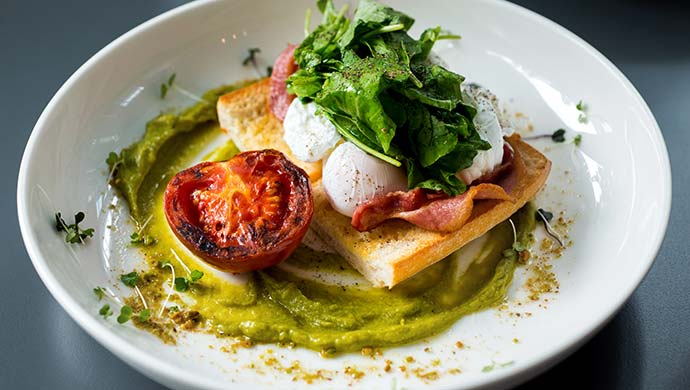 ---
Serves 2
4 eggs
8 slices bacon
100g spinach
2 tbsp olive oil
2 mini baguettes
1 tomato halved
250g broccoli
50g potatoes
40g Lurpak butter
40g Arla cream
2 tbsp thyme
½ tsp cumin
Salt
Freshly ground pepper
On a cutting board, cut the mini-baguettes lengthwise in half. Drizzle a bit of olive oil on each half. Season all baguette pieces with salt and freshly ground pepper. Transfer baguette halves in a nonstick baking dish. Preheat oven broiler. Grill the baguettes for 2-3 min until their top turns a toasty brown.
In a saucepan, bring 1 L water and 4 tbsp vinegar to a boil over high heat. Remove saucepan.
Crack each egg into a separate bowl. Using a whisk, create a whirlpool (vortex) in the center of the water and vinegar mixture in the pot. Carefully lower one of the eggs in and let cook for 3-4 min. Transfer to a plate lined with kitchen towels so as to remove as much of the excess water as possible.
Keep the water in the pot at the boiling point and repeat process with the remaining eggs. Bring another pot with salted water to a boil and boil the broccoli and potato.
When ready, remove pot from heat and drain vegetables. Return broccoli and potato to pot. Add the butter, cream, salt and freshly ground pepper. Use a potato masher to press down on vegetables to puree. Heat the olive oil in a nonstick skillet over high heat.
Sauté the bacon slices for 2-3 min until crispy and fragrant. Remove from skillet and set aside. Add the tomatoes to the bacon fat in the skillet and cook until their color darkens somewhat and their flesh becomes soft. Season with salt and freshly ground pepper.
In each one of two, large, individual plates make a bed of broccoli puree. Layer on top of each bed a baguette half, 4 slices of bacon, and 2 poached eggs. Finish with a bit of spinach, and half a sautéed tomato. Sprinkle with cumin and fresh thyme and serve.