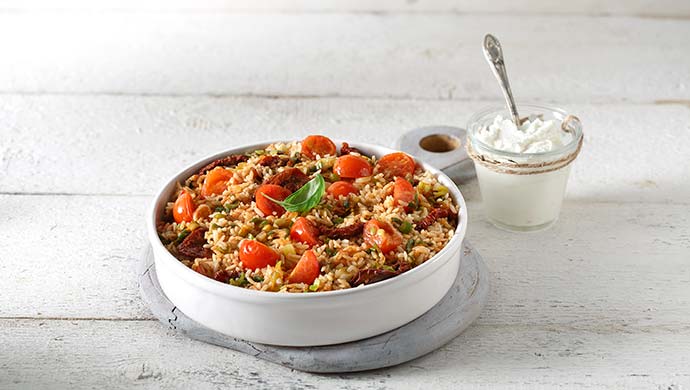 ---
Serves 4
500g Agrino 10-min brown rice
80g butter
180g green onion finely chopped
2 tbsp tomato paste
20 sun-dried tomatoes finely chopped
1 L vegetable broth
20 cherry tomatoes cut into halves
40g butter for the glazing
3 tbsp basil finely chopped
200g Katiki Domokou cheese
Salt
Freshly ground pepper
Heat the 80g butter in a large, nonstick frying pan over medium heat until melted. Sauté the chopped green onion for 1-2 min until wilted and opaque but before it browns. Add Agrino 10-min brown rice. Continue sautéing for 1 more minute. Add tomato paste and sun-dried tomatoes. Sauté for an additional minute. Finish with the vegetable broth.
Preheat oven to 200°C. Add salt and freshly ground pepper to the brown rice mixture and cook until bubbles begin to form. Remove from heat and transfer contents of the frying pan into a nonstick baking tin, spreading evenly. Top with the cherry tomatoes. Tightly cover tin with a double piece of aluminum foil. Bake for 10 min. Remove tin from oven. Let stand covered for 5 min.
Add the finely chopped basil. Add the 40g butter cut into small cubes and fold stirring thoroughly until melted. Serve in white, individual plates and top with 1 tbsp Katiki Domokou cheese. Finish with a few grindings of pepper.