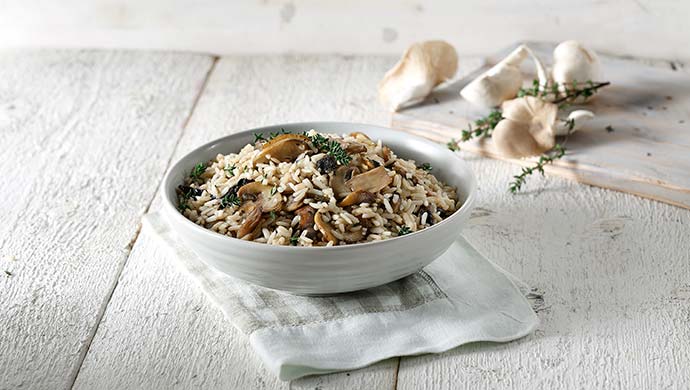 ---
Serves 4
400g Agrino 10-min brown rice
2 tbsp olive oil
150g button mushrooms
150g pleurotus (oyster) mushrooms
150g portobello mushrooms
80g butter
180g onion finely chopped
40g butter to drizzle over rice before serving
800 ml vegetable broth
2 tbsp fresh thyme
Salt
Freshly ground pepper
On a cutting board, thinly slice button and portobello mushrooms. Shred oyster mushrooms by hand. Heat the olive oil in a large, nonstick frying pan over high heat.
Sauté all mushrooms for 2-3 min. Add salt and freshly ground pepper and transfer into a bowl. Heat the 80g butter in the pan over medium heat until melted.
Sauté onion for 1-2 min, stirring constantly until wilted and opaque. Add the Agrino 10-min brown rice and continue sautéing for 1 min. Finish with vegetable broth. Preheat oven to 200°C. Add the sautéed mushrooms to the rice mixture in the pan. Season with the thyme, salt, and freshly ground pepper. Bring mixture to a boil and transfer immediately into a nonstick baking tin. Tightly cover tin with a double piece of aluminum foil. Bake for 10 min.
Remove tin from oven. Let stand covered for 5 min. Add the 40g butter and stir until butter has melted. Serve in white, individual plates. Drizzle with olive oil and season with a few grindings of pepper.