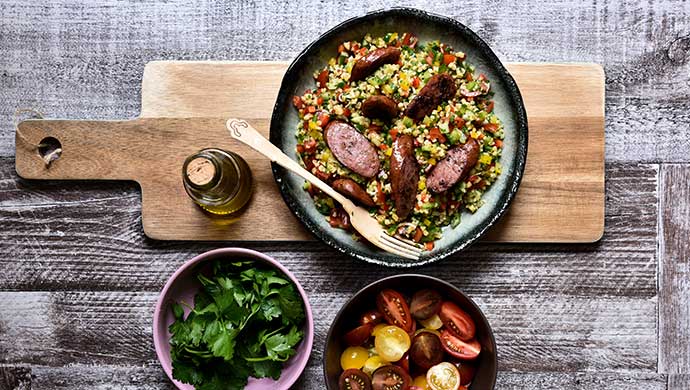 ---
Serves 4
4 Moutevelis veal sausages with wine & thyme
300g bulgur
1,100g vegetable broth
1 green bell pepper
1 Florina sweet red pepper
1 yellow bell pepper
300g cherry tomatoes
1 cucumber
4 green onions
½ bundle parsley
80 ml olive oil
Juice of 1 lemon
Salt
Freshly ground pepper
Pour the vegetable broth into a pot and set on the stove, turning heat to high. Bring to a rolling boil. Uncover. Add the bulgur.
Let boil uncovered for 1 minute. Remove from stove. Cover and let stand for 24-26 min. Check bulgur for doneness. Strain bulgur to remove any of the liquid that has not been absorbed. Transfer to a bowl and refrigerate.
On a cutting board, use a sharp knife to de-seed cucumbers. Using a vegetable mandolin, thinly slice cucumbers. Use a sharp knife to cut cucumber slices, green bell pepper, Florina sweet pepper, and yellow bell pepper into small cubes. Cut cherry tomatoes lengthwise into quarters. Finely chop the green onions.
Add your finely chopped veggies to the bulgur in the bowl. Drizzle with the olive oil and lemon juice. Season with salt and freshly ground pepper. Toss to mix thoroughly.
Use a sharp knife to cut the wine & thyme veal sausages into pieces ½ cm thick. Place a nonstick, frying pan on the stove. Turn heat to high. When the pan is well heated, sauté the veal sausage pieces for 3-4 min until they turn an attractive color and release their aromas. Add sausages to the bulgur salad. Toss well and serve.