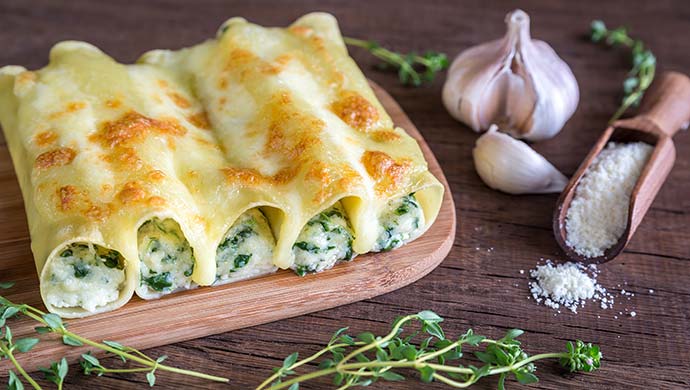 ---
Serves 4
16-18 cannelloni pasta
6 tbsp olive oil
2 tbsp Lurpak butter
1½ kg spinach rinsed and trimmed
300g leek
2 cloves garlic minced
1 onion finely chopped
2 tbsp parsley finely chopped
1 tbsp oregano finely chopped
100g Kasseri Xanthis cheese grated
200g feta cheese grated
100g anthotyro grated
2 eggs
For the béchamel sauce:
15g Lurpak butter
15g all-purpose flour
330g milk
120g Arla cream cheese
1 pinch nutmeg
1 egg yolk
Salt
Freshly ground pepper
To make the béchamel sauce, melt the butter in a small saucepan over high heat. Add the flour stirring briskly until a thick, paste-like mixture has formed. Gradually add the milk, stirring continuously and briskly until mixture begins to thicken. Add the cream cheese. As soon as cream cheese has been incorporated, remove saucepan from heat. Add the egg yolk, nutmeg, salt and freshly ground pepper and stir to blend. Set aside.
Heat 3 tbsp olive oil in a large, nonstick skillet over high heat. Sauté spinach until wilted. Season with salt and freshly ground pepper. Transfer into a large bowl. Return the skillet to the stove over high heat. Add the remaining 3 tbsp olive oil. Sauté the leeks, garlic, and chopped onions until wilted and translucent.
Transfer skillet contents into the bowl with the spinach. Add the parsley, oregano, kasseri, anthotyro and feta cheeses, eggs, salt and freshly ground pepper. Stir thoroughly.
Preheat oven to 180°C. Using a spoon, fill the cannelloni and place them in rows in a glass bakeware dish. Pour the béchamel sauce evenly over the cannelloni.
Bake for 35-40 min.