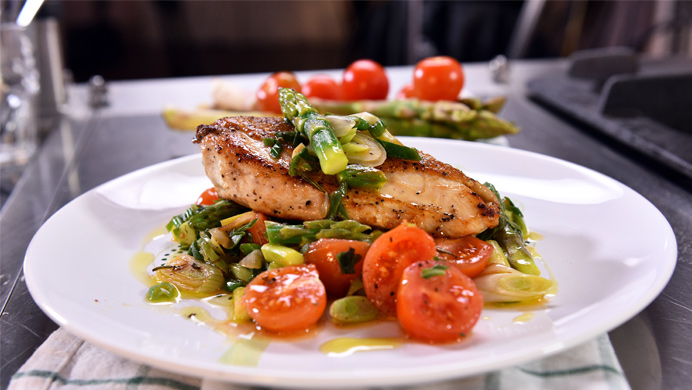 ---
Serves 4
2 chicken breast halves with skin on
4 tbsp olive oil
30 cherry tomatoes halved
15 stalks asparagus
4 green onions chopped
100 ml dry white wine
3 tbsp fresh rosemary
Salt
Freshly ground pepper
Use a potato peeler to trim asparagus stalks starting 4-5 cm from the top and moving down. Tie stalks in bundles of seven with kitchen string to prevent the tips from breaking off during cooking. Carefully lower into a pot with boiling, salted water. Boil for 6 min.
Using a slotted spoon, immediately transfer bundled stalks into a bowl of ice-cold water to interrupt the boiling process and make sure that they retain their vibrant green color. Let stand for 10 min. Transfer onto kitchen towels to remove moisture.
On a cutting board, brush the skin of the chicken breasts with the 2 tbsp olive oil. Season with salt and freshly ground pepper.
Place a non-stick pan on the stove over high heat. Add chicken breasts skin side down and sear until golden brown. Turn over and continue searing until golden brown. Turn heat to low and fry for 16-18 minutes, turning fillets over every 5 min.
Heat the remaining olive oil in another nonstick pan. Sauté green onions for 1-2 min. Add cherry tomatoes and continue sautéing for 1-2 min.
Add asparagus, fresh rosemary, salt, and freshly ground pepper. Finish with the white wine. Serve the chicken breasts on a bed of asparagus and cherry tomatoes in large, individual plates.