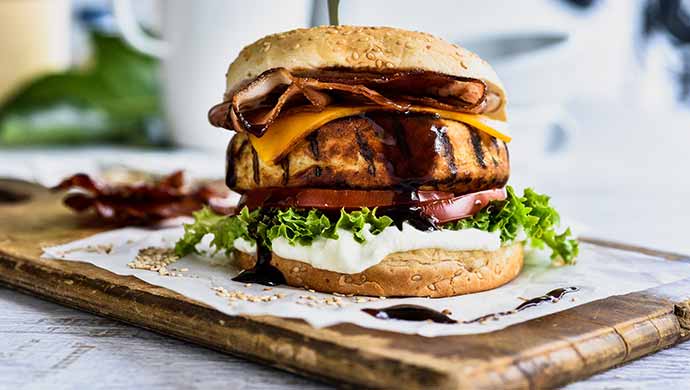 ---
Serves 4
4 burger buns
4 lettuce leaves
4 tomato slices
3 bacon slices
4 cheddar cheese slices
100 g Kalamata Papadimitriou BBQ balsamic cream
For the chicken burger:
700g ground chicken
40g olive oil
2 eggs
50g dry breadcrumbs
2 shots club soda
5 green onions finely chopped
Salt
Freshly ground pepper
For the creamed feta cheese:
200g feta
50g milk
30 ml olive oil
Freshly ground pepper
Place ground chicken in a large bowl. Add the olive oil, eggs, dry breadcrumbs, club soda, chopped green onions, salt and freshly ground pepper. Knead thoroughly until the ground chicken begins showing small threads. Shape into burger patties. Refrigerate for about 20 min.
Place a large, nonstick pan on the stove. Turn heat to high until bottom of pan is well heated. Sear patties well on both sides.
Preheat oven to 180°C. Place patties in a nonstick baking tin in one layer. Bake for 14-16 min.
4 minutes before the baking time is over, place bacon slice in the baking tin until the bacon begins sizzling. 1 minute before the baking time ends, top each patty with a cheddar slice and add the burger buns on the side to toast them slightly.
While the patties are baking, make the creamed feta cheese. Place feta, milk, olive oil, and freshly ground pepper in a blender. Beat or pulse until thick and creamy.
Assemble your chicken burgers. Start by spreading the bottom bun with the creamed feta. Layer atop the creamed feta with a tomato slice, lettuce leaf, and chicken patty with melted cheddar cheese. End with the bacon slice and the BBQ balsamic cream. Top off with the top bun.