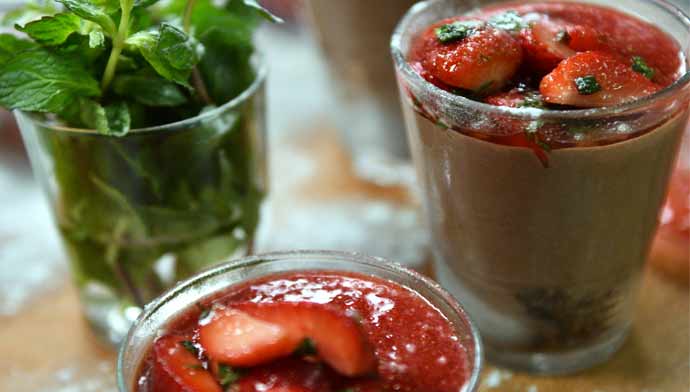 ---
Makes 8 serving glasses
8 chocolate chip cookies
60g butter melted
200g whipping cream
60g icing sugar
600g cream cheese
350g baking chocolate
60g icing sugar
10 strawberries cut into quarters for the garnish
2 tbsp fresh mint minced
2 tbsp sugar
For the strawberry sauce:
130g strawberries hulled and well-rinsed
80g sugar
In a small bowl, mix well cut-up strawberries, sugar, and mint. Refrigerate and let stand to marinate. Crumble up the chocolate chip cookies in a food processor. Transfer into a bowl. Add the melted butter to the cookies in the bowl and mix well.
Divide cookie and butter mixture into individual serving glasses. Refrigerate until cream is ready. In a bain-marie, melt the baking chocolate with the cream. Set aside.
In a mixer bowl, beat together for 2-3 min the cream cheese and icing sugar.
Add the melted baking chocolate mixture. Beat until all ingredients are well blended.
Remove serving glasses from refrigerator. Top the chocolate chip base in each with the creamy mixture. Refrigerate for at least 2 hours before serving.
To make the sauce, use a food processor to mash together the strawberries and sugar.
Before serving your chocolate cheesecake glasses, top each with some of the strawberry sauce and garnish with cut-up strawberries.