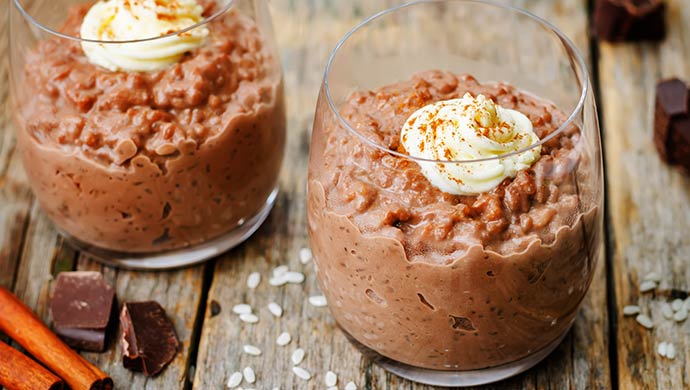 ---
Serves 4
100g Agrino Glassé medium-grain rice
500 ml milk
2 egg yolks
1 tbsp butter
1 vanilla bean
1 cinnamon stick
50g sugar
200g baking chocolate
1 pinch salt
For the whipped cream:
180g whipping cream
Zest of 1 large orange
2 tbsp icing sugar
Whip the whipping cream together with orange zest and icing sugar in a mixer bowl until stiff peaks form. Place the whipped cream in a pastry bag with an attractive tip. Refrigerate. Boil the glassé rice for 10 min adding a pinch of salt.
Cut the vanilla bean in half lengthwise. Remove seeds (vanilla caviar). Drain rice and place bag into the same pot together with the milk, vanilla caviar, vanilla pod, and cinnamon stick. Bring mixture to a boil over medium heat. Turn heat down and continue cooking for another 10-12 min. Beat together sugar and egg yolks, whisking until they turn white and frothy.
Remove rice from stove. Gradually add its liquids to the sugar-and-egg mixture in the bowl, stirring vigorously and continuously to prevent yolks from cooking.
When egg mixture reaches the same temperature as the rice, pour bowl contents into the pot with the rice, together with the baking chocolate. Simmer until the chocolate has melted and the rice pudding begins to thicken. Remove from heat. Discard vanilla bean and cinnamon stick. Divide into bowls. Allow to cool and refrigerate. Serve the chocolate rice pudding garnished with a decoration of orange-flavored whipped cream and a sprinkle of cinnamon powder on top.