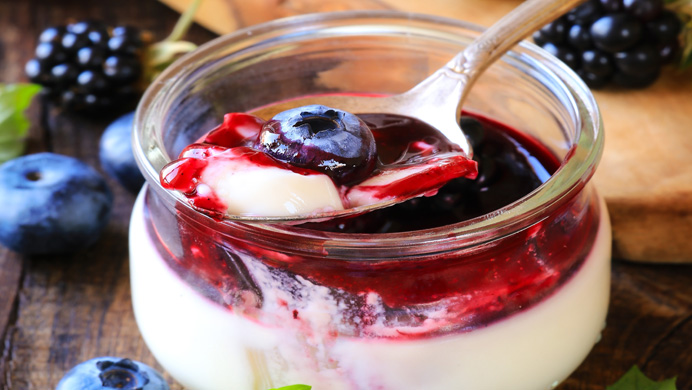 ---
Serves 6
300g fresh milk
300g Arla cream cheese
3 sheets gelatin
100g sugar
200g Arla cream
1 vanilla bean
7-8 fresh blackberries
7-8 fresh blueberries
For the sauce:
100g fresh blackberries
100g fresh blueberries
100g strawberries
100g sugar
To make the red-berry sauce, use a food processor to mash the 100g fresh blackberries, fresh blueberries, and strawberries together with the 100g sugar.
On a cutting board, use a small, sharp knife to halve the vanilla bean lengthwise. Transfer into a saucepan. Add milk and sugar to the pot. Cook all ingredients over medium heat until sugar has dissolved and the vanilla bean has released its aromas.
Sink the gelatine sheets one by one in a bowl of cold water allowing their grains to hydrate (bloom). When sheets reach the consistency of applesauce, drain well and add to the rest of the ingredients in the saucepan.
Whisk together all ingredients in the pot. Add the Arla cream and cream cheese and stir well to incorporate. Divide the mixture into individual, small, glass cups. Allow to cool. Refrigerate for at least 2 hours.
When the cream is ready, remove glass cups from the refrigerator. Spoon dollops of red-berry sauce over each cup. Garnish each cup with 3-4 fresh blackberries and blueberries and serve.