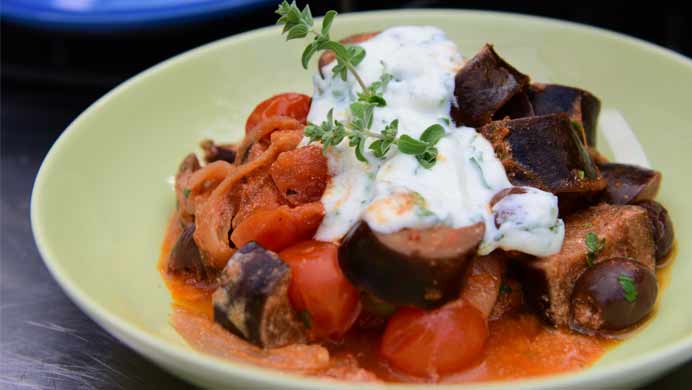 ---
Serves 4
6 Italian (round) eggplants
4 tbsp olive oil
2 onions sliced
2 cloves garlic minced
30 olives pitted
4 tbsp capers
2 tbsp tomato paste
30 cherry tomatoes halved
100 ml red wine
2 tbsp fresh oregano finely chopped
2 tbsp parsley finely chopped
300g yogurt
50 ml olive oil
Salt
Freshly ground pepper
On a cutting board, use a sharp knife to cut the eggplants into large cubes. Heat the olive oil in a pot over high heat and sauté the onion and garlic for 1-2 min, stirring constantly to prevent them from browning.
When onion and garlic have wilted, add the olives, capers and tomato paste. Stir well and continue sautéing for 2-3 minutes.
Add the eggplants. Sauté for an additional 2-3 min. Add the red wine and cherry tomatoes. Season with salt and freshly ground pepper. Stir. Turn heat to low and simmer covered for 25-30 min. 5 minutes before the end, add the finely chopped fresh oregano and simmer for 2-3 min more. Remove from heat and allow pot contents to cool.
In a small bowl, fold together the yogurt, 50 ml olive oil, finely chopped parsley, salt and freshly ground pepper. Serve your one-pot eggplants in large bowls. Top each serving with 2-3 tbsp of the yogurt sauce.