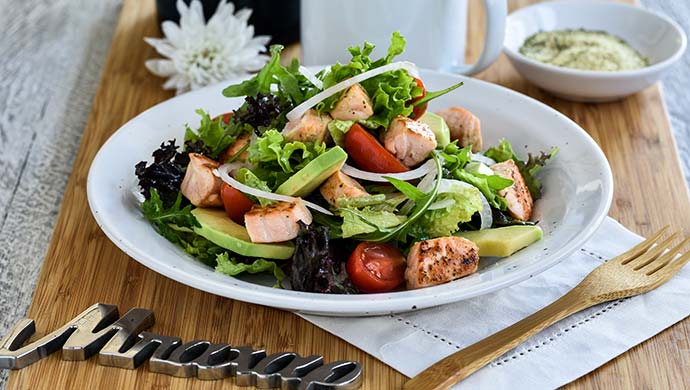 ---
Serves 4
200g green lollo lettuce
200g butterhead lettuce
120g arugula leaves
400g salmon fillet
2 tbsp olive oil
2 tbsp Bahar fish & seafood mix
1 ripe avocado
1 onion sliced
20 cherry tomatoes cut in halves
For the dressing:
120 ml olive oil
40 ml lemon
2 tbsp honey
½ tsp Bahar ginger powder
Salt
Freshly ground pepper
In a large bowl, tear by hand the green lollo and butterhead lettuces, and the arugula.
On a cutting board, use a sharp knife to cut the avocado in half. Remove pit. Cut into small cubes. Cut cherry tomatoes in halves. Slice the onion. Add to the bowl with the salad greens.
To make the dressing, add the olive oil, lemon juice, honey, ginger powder, salt, and freshly ground pepper into a food processor. Beat or pulse well until thick and creamy. On a cutting board, use a sharp knife to detach the salmon's skin from the flesh. Discard. Cut salmon fillet into bite-size pieces. Heat the 2 tbsp olive oil in a nonstick frying pan. Turn heat to high. Sauté the salmon bites for 2-3 min on high heat. Sprinkle the Bahar fish & seafood mix on the salmon. Stir.
Transfer salmon into a plate. Allow to cool. Drizzle the dressing over the salad greens. Toss well but gently. Serve in large, individual plates. Top with salmon bites.