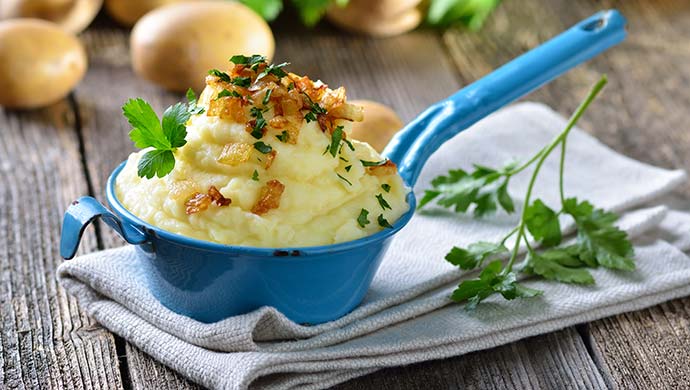 ---
Serves 4
1 kg potatoes
90 g Lurpak butter
100 ml Arla cream
2 tbsp olive oil
1 onion finely chopped
1 tsp sweet paprika
2 tbsp finely chopped parsley
Salt
Freshly ground pepper
Wash and scrub the potatoes well and drop in a large pot of salted, cold water.
Bring to a boil over high heat and add salt. Turn heat to medium and cook potatoes for 40-45 min. Test for doneness by inserting a small knife into the flesh of one potato.
Transfer into a colander and drain. Let stand for 5 min until all moisture from the cooking has evaporated. Return potatoes to their pot. Add the butter and a small amount of the cream. Using a potato masher, begin pressing down on the potatoes in batches, gradually adding the remaining cream. Season to taste with salt and freshly ground pepper.
Heat the olive oil in a large, nonstick skillet over high heat. Sauté the onion for 3-4 min until wilted and translucent. Season with the sweet paprika, salt and freshly ground pepper. Remove from heat.
Serve your butter-fluffed mashed potatoes garnished with the sautéed onion and finely chopped parsley.