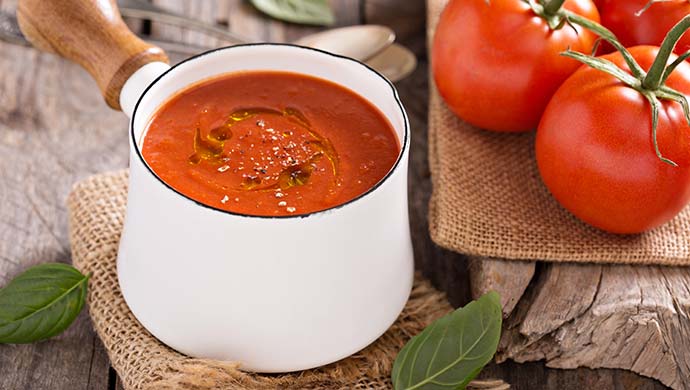 ---
Serves 6
2 kg vine-ripe tomatoes
5 tbsp olive oil
4 cloves garlic minced
2 green onions finely chopped
1 tbsp fresh basil finely chopped
Salt
Freshly ground pepper
Drop the tomatoes for 10 sec in a pot of boiling water. Remove and drain. Allow to cool somewhat and remove skin, using a small knife.
Cut each in half. Use a teaspoon to scoop out the tomato seeds and any of the tough white core. Heat the olive oil in a pot and sauté the finely chopped onions and garlic until wilted and translucent. Add tomatoes and stir well. Simmer until half of the liquid in skillet has evaporated. Season with salt and freshly ground paper. Stir using a handheld stick blender.
Just before serving, garnish with the finely chopped, fresh basil. Your homemade tomato sauce is ready for use on pasta dishes, in recipes calling for red sauces, and one-pot dishes.
At the farmers market, opt for tomatoes that are vine ripe: your tomato sauce will turn out even more delicious!
Score the tomatoes lightly before dropping them in the boiling water for 10 sec. Next, plunge them into a bowl of ice-cold water: you'll make it even easier to remove their skin with a small knife.