Some time ago, I promised you that I'd write a few words about a fantastic London shop selling select Greek products. Well, the time has come. During my last visit to the capital of the United Kingdom I had a chance to visit that shop, Isle of Olive…
Some time ago, I promised you that I'd write a few words about a fantastic London shop selling select Greek products. Well, the time has come. During my last visit to the capital of the United Kingdom I had a chance to visit that shop, Isle of Olive
Paulina and Gregoris, who are life partners, set up business in September 2011. Initially and up to July 2013 when they opened up the shop, they used to run a stall in open-air markets across London. They had also set up an online shop through which they are still selling products to customers located not only in England but in a number of other European countries as well.
Before venturing out to establish their Isle of Olive, the proprietors used to be engaged in altogether different fields: Gregoris worked as a physicist and Paulina was a practicing psychologist. At some point, they decided that they wanted to do something on their own, a venture that would bring them a step closer to Greece. They told me that not only have they always felt they had a special affinity with Greek gastronomy but that they should contribute to the strengthening of the Greek economy as well. And that's how it all started. For those of you visiting London for the first time, Isle of Olive is located at East London, Hackney, right next to Broadway Market, one of London's most iconic and frequented shopping streets.
The closest metro station to Isle of Olive is that of Bethnal Green. The overground railway station of London Fields is even closer. There are also many buses running nearby. Overall, the location of Isle of Olive is an easily accessible destination.
The main activities involve the sale of products. At the store you'll find olive oil, olives, honey, and herbs in a great range of brands coming from all over Greece. They also sell homestyle rusks, artisanal cheeses, select wines, small-farm pulses, Greek traditional pasta varieties, sauces, "spoon" preserves, jams, and everything you would expect to find in a Greek delicatessen.
The store also provides a cozy nook where customers can sit and take a break from their browsing to sample some traditional flavors Paulina and Gregoris prepare in the store themselves, such as Greek pies, salads, dips, Greek herbal teas, and Greek coffee. Every weekend the menu is expanded to include some homecooked Greek dishes. All food on offer is made with products they sell in the store so that customers, by sampling the homemade dishes, can get to know what the victuals sold at Isle of Olive actually taste like.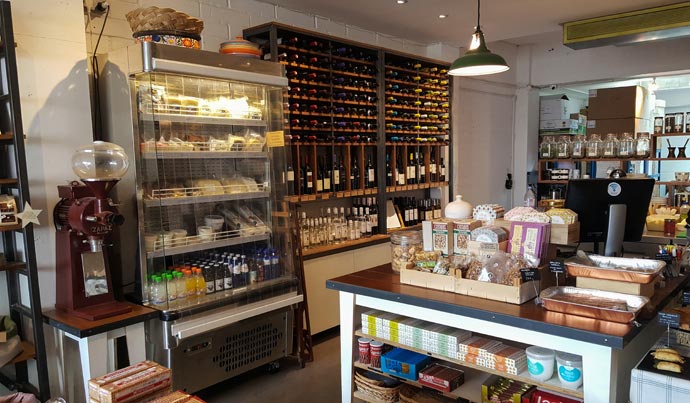 I asked whether, apart from just buying something, customers have the option of takeaway when it comes to the shop's homecooked fare. Polina's response was instant and characteristic: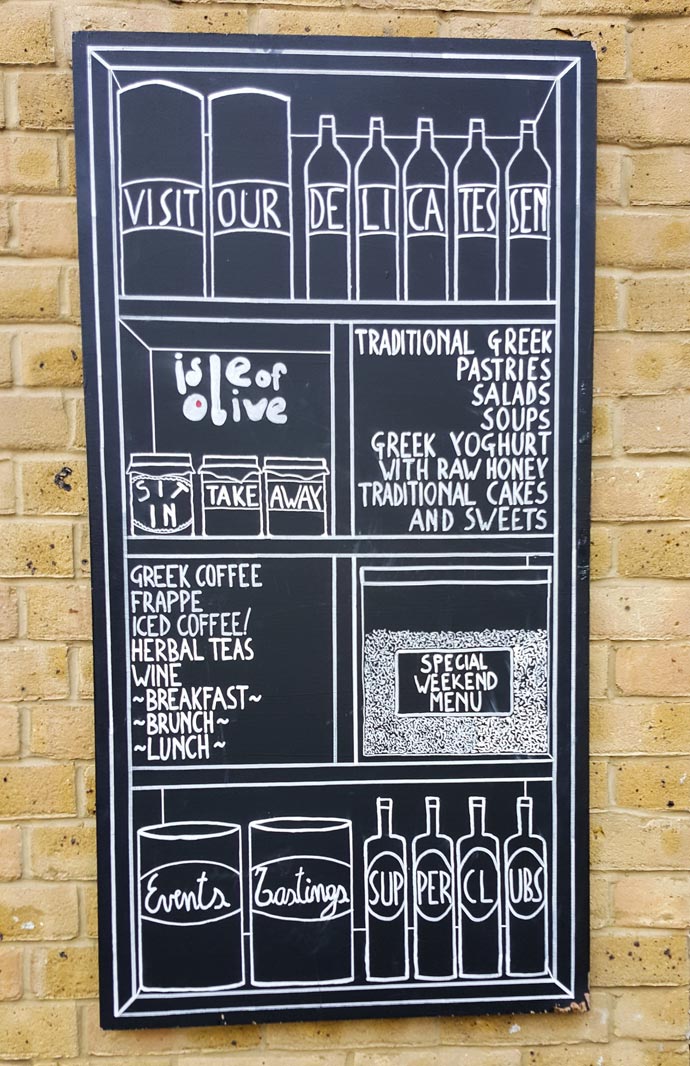 "Of course! People can definitely take away the food we make here." Last but not least, Paulina told me that, last summer, Isle of Olive signed up with Amazon's Amazon Fresh online grocery shopping service. Isle of Olive sells its products through this Amazon subsidiary and online shoppers in London can enjoy their purchases through the Amazon Fresh same-day delivery system.
On a regular basis, Paulina and Gregoris organize wine & food tasting nights at the store with a view to spreading the gastronomic wealth of Greece to as many people as possible. Wine-tasting based on Greek wines and Greek grape varieties has proved very popular and has received lots of positive comments.
Isle of Olive business hours
Tuesdays–Saturdays: 10am-6pm
Sundays 11am-6pm
Closed on Mondays