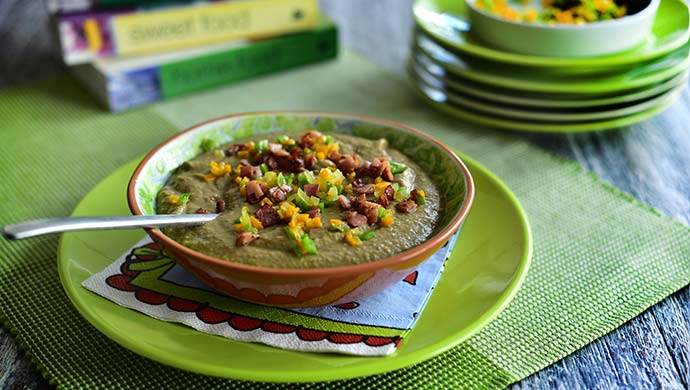 ---
Serves 4
500g Agrino lentils from Farsala
4 tbsp olive oil
2 tbsp butter
1 carrot sliced
1 onion finely chopped
1 clove garlic finely chopped
2 tbsp sumac
1700 ml vegetable broth
For the garnish:
400g smoked leg of pork
1 onion
1 carrot
1 green bell pepper
100 ml cooking cream
Salt
Freshly ground pepper
Heat half of the olive oil and half of the butter in a large, nonstick pot over high heat. Sauté the sliced carrot, finely chopped onion, and garlic, together with the sumac for 1-2 min. Add the lentils. Continue sautéing for one more min. Finish with the vegetable broth. Bring to a boil and turn heat to low. Simmer for 30-35 min. When the lentils are ready, turn heat off. Transfer some of the liquid into a bowl, leaving the lentils in their pot. Using a handheld stick blender, mash the lentils into a smooth puree. Season with salt and freshly ground pepper.
If your puree seems too dense, add some of the liquid you reserved in the bowl until you obtain the texture you desire. Add the cooking cream and stir to incorporate.
To make the garnish, cut into short, thin sticks the smoked leg of pork, onion, carrot, and green pepper. Heat the remaining olive oil and butter in a large, nonstick skillet over high heat. Sauté the julienned vegetables for 2-3 min until they release their aromas. Add the smoked leg of pork sticks and continue sautéing for 1-2 min.
Serve your lentil puree in small, individual ceramic bowls, each topped with 1-2 tbsp garnish.