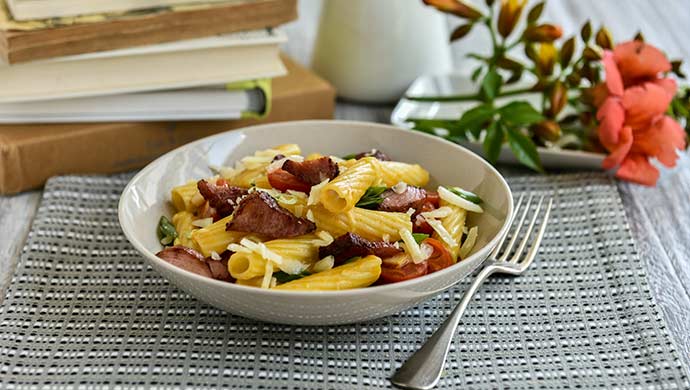 ---
Για 4 άτομα
Serves 4
500g rigatoni pasta
300g Mani sygklino smoked pork
3 tbsp olive oil
30 cherry tomatoes
4 green onions
3 tbsp Kalamata Papadimitriou squeeze-spicy mustard
120 ml white wine
250g graviera cheese grated
Salt
Freshly ground pepper
Fill a large pot with salted water. Bring to a boil and cook the rigatoni pasta for 6 min. Transfer rigatoni into a colander and drain, cooling the pasta down by running cold tap water over it. On a cutting board, use a sharp knife to cut the Mani sygklino smoked pork into bite-size pieces, quarter the cherry tomatoes, and finely chop the green onions.
Heat olive oil in a large, nonstick pan. Turn heat to high. Place the Mani sygklino into the pan. Sauté for 1-2 min until the sygklino turns a light golden brown and releases its aromas.
Add the finely chopped green onions. Continue sautéing for 1 minute. Add the squeeze-spicy mustard and the rigatoni. Stir gently into rest of ingredients. Finish with the white wine. Add the grated graviera cheese and the cherry tomatoes. Continue cooking until the sauce thickens.
When the rigatoni pasta is ready, remove from stove. Serve in large, individual plates. Top with a little freshly ground pepper.