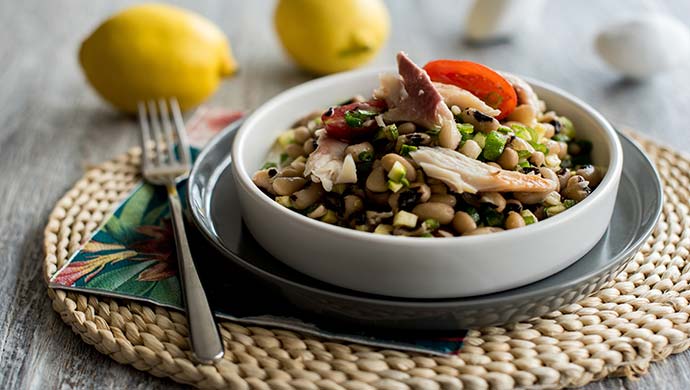 ---
Serves 4
400g Agrino black-eyed beans from Feneos, cooked
120g smoked trout cut into bite-size pieces
3 tbsp olive oil
1 green bell pepper
2 zucchini
30 cherry tomatoes cut into quarters
4 green onions finely chopped
60g baby arugula
For the dressing:
100 ml olive oil
40 ml lemon juice
Zest of 1 lemon
Salt
Freshly ground pepper
To make the dressing, whisk together in a small bowl the olive oil, lemon juice and zest, salt and freshly ground pepper until thick and creamy.
In a large pot, bring salted water to a boil over high heat. Drop the black-eyed beans into the boiling water. Bring to a boil again and turn heat to low. Simmer for 30-35 min until al dente.
Remove from heat and drain. To cool the beans, run plenty of cold, running water over them. Drain well and transfer black-eyed beans into a large bowl.
On a cutting board, dice the green pepper and zucchini. Cut the cherry tomatoes into quarters and finely chop the green onions. Transfer all vegetables into the bowl with the black-eyed beans. Add the baby arugula. Drizzle the dressing over the lentil puree and chopped vegetables. Season to taste with salt and freshly ground pepper. Gently fold all ingredients together.
Serve in individual, large bowls, each garnished with 3-4 bite-size pieces of smoked trout.