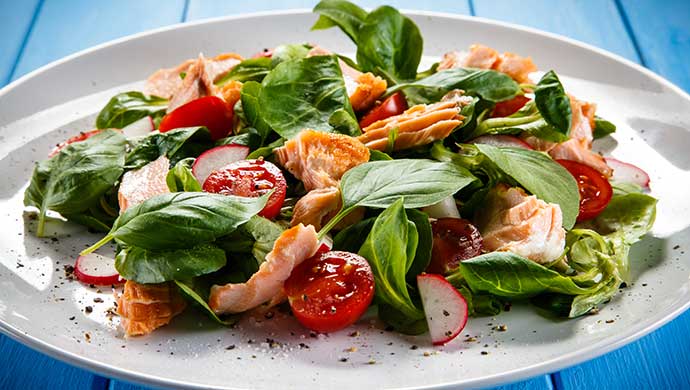 ---
Serves 4
300g baby spinach leaves
200g salmon fillet
7 radishes trimmed
20 cherry tomatoes
3 tbsp olive oil
3 tbsp Papadimitriou Kalamata white balsamic vinegar
1 tbsp ginger powder
For the dressing:
60 ml olive oil
20 ml lemon juice
Salt
Freshly ground pepper
On a cutting board, rub the salmon fillet with the ginger powder, salt, and freshly ground pepper Heat the 3 tbsp olive oil in a nonstick frying pan. Turn heat to high. Put the salmon fillet in the frying pan and sear thoroughly on all sides. Turn the heat off. Remove salmon fillet from pan. Transfer to a small baking tin lined with baking paper.
Preheat oven to 180°C. Pour the white balsamic cream over the salmon. Wrap the baking paper over the fillet to cover it completely. Bake for 7-8 min. Use a sharp knife to cut the radishes in half and then slice. Cut the cherry tomatoes in half. Place radishes and cherry tomatoes in a salad bowl. Add the baby spinach leaves.
In a food processor, add the 60 ml olive oil, lemon juice, salt, and freshly ground pepper. Beat or pulse until you have a thick and creamy dressing. Remove your baked salmon from the oven. Transfer onto a cutting board. Using a fork, break into irregular bite-size pieces. Allow to cool. Once your salmon is cool, add it into the salad bowl with the other ingredients. Drizzle the dressing over your salad. Serve in large, individual plates.