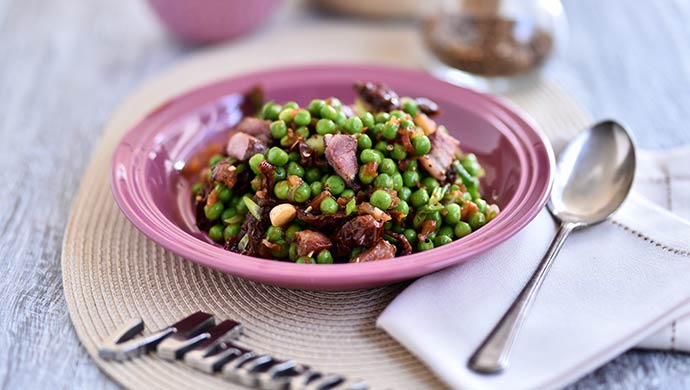 ---
Serves 4
500g fresh or frozen peas
250g Mani sygklino smoked pork
6 tbsp olive oil
1 large onion minced
2 cloves garlic minced
4 green onions
2 tbsp tomato puree
2 tbsp Bahar var mix
2 tomatoes finely cubed
300g canned tomatoes
16 sun-dried tomatoes finely chopped
2 tbsp dill, finely minced
For the creamed feta:
250g feta cheese
50g milk
50g whipping cream
50 ml olive oil
Salt
Freshly ground pepper
To make the creamed feta, place in a food processor the feta cheese, milk, whipping cream, 50 ml olive oil, salt, and freshly ground pepper. Beat or pulse until creamy.
On a cutting board, use a sharp knife to cut the Mani sygklino smoked pork into bite-size pieces. Cut the sun-dried tomatoes into sticks.
Place a large nonstick pot on the stove. Turn heat to high. When the bottom of the pot is well heated, add the olive oil. Stirring frequently, sauté the sygklino bites over medium-to-high heat until a golden brown all over.
Transfer sygklino into a bowl. Scrape up the sygklino fatty bits off the bottom of pan but leave inside pan. Turn heat on high.
Drop the onion and garlic and mix into the pot and mix well with the fatty bits. Stirring constantly, cook onion and garlic for no more than 2-3 min until edges just start to brown.
Add the green onions, sun-dried tomatoes in strips, tomato puree, and the Bahar var mix. Sauté for 1-2 min longer.
Add the sweet peas, chopped and canned tomatoes, salt, and freshly ground pepper. Mix well.
As soon as the sweet peas come to a boil, lower heat. Simmer for 25-30 min.
When your dish is ready, remove from heat. Add the chopped dill and fold it into the rest of the cooked ingredients.
Serve your sweet peas in individual plates. Top with 1-2 tbsp of the creamed feta. Garnish with the sautéed sygklino smoked pork.