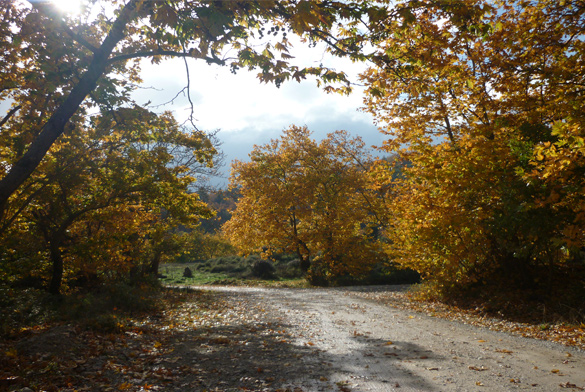 ---
Trikala Korinthias is so close to Athens that you could choose to make the place your permanent home base and commute to Athens for work. Luckily, the road to Patra will never be completed so the trip will always be an adventure until you get to the junction leading to Trikala Korinthias. Leaving the sea behind, you take a road that gives you the impression right at the outset that driving up the mountain is nothing but pure bliss. Even when you're still at the foot of the mountain the vistas become truly mesmerizing. Year round, Nature generously smiles upon the area. During autumn, there's nothing but color, color, color everywhere. Trikala Korinthias is divided into Lower, Middle, and Upper Trikala. Everywhere you look you see guesthouses, hostels, and lodgings all vying with each other to offer quality amenities, traditional local architecture, and respect to the environment. Everywhere you turn there's wood and stone; vineyards which prepare your taste buds for fine wine; and an abundance of restaurants since the area prides itself on its excellent food.
You head to Trikala Korinthias to relax, enjoy nature walks, sample great food, and have a change of scenery. The area's guesthouses are clusters of small wood-and-stone lodges which are so cute and cozy that you'll have to truly force yourself to get up and go out. You feel that you want to spend all of your stay in your lodge doing nothing but have your meals there, loaf about, and invite your friends over.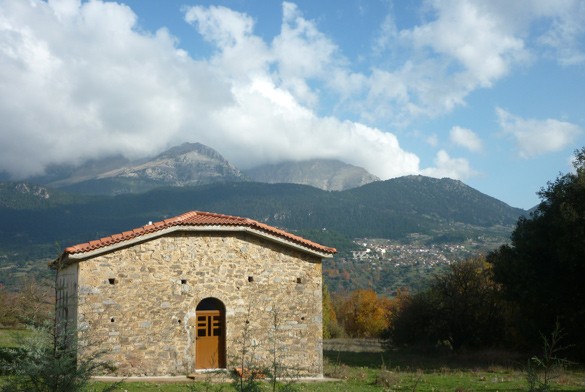 Trikala Korinthias offers plenty of accommodation and dining options for all tastes. Two nights is the minimum of time you should stay there. Your second night will be the best ever. If you decide to stay for a third night, you'll have trouble leaving! Many of the hostels are so tranquil and are surrounded by such majestic vistas, that you'll wonder why people don't do yoga or shiatsu there since it's the perfect setting for such activities.
The nights offer wonderful views of the moonlit or starlit skies. Stay up late one night and you'll be rewarded handsomely by discovering that the sky is studded with far more stars than you ever thought possible. A nice glass of wine will help you count them all.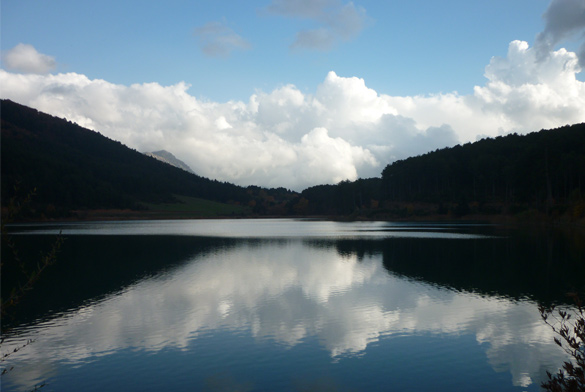 In Trikala Korinthias, it stays cool even in the summer, so it's an ideal destination no matter what the season of the year.
Those who love staying active should visit nearby Doxa Lake where there are activities such as Triathlon swim meets, and, of course, natural trails for hiking and running for all, from beginners to experts.
Seek out area restaurants which advertise local products and sample or buy them all to take back to Athens.
Years ago, before the recession, Trikala Korinthias used to be a cosmopolitan destination. But now, under the current economic slump, prices have gone back to normal and are affordable and reasonable throughout the year, especially during the hot summer months when lodgings need no heating.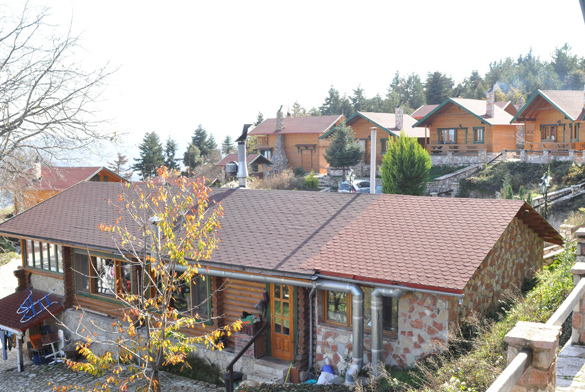 The prices quoted by some of the guesthouses will turn you into disciples of those establishments. The food is delicious and, as we say in Greece, "countryside" priced, in other words, more than reasonable. It's also worth visiting the rest of the villages. Trikala Korinthias is not a picturesque village, nor is its architecture anything special but it's more than certain that you'll go back again and again.
Leftheris Plakidas