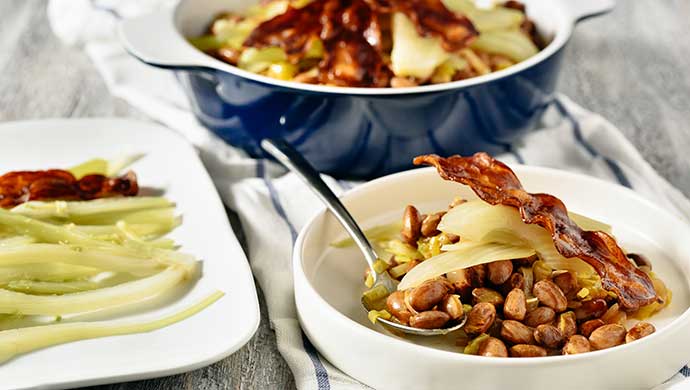 ---
Serves 4
300g Agrino cranberry beans from Evros
2 tbsp olive oil
2 tbsp butter
1 leek finely chopped, white part only
1 red onion coarsely chopped
½ glass dry white wine
2 tbsp tomato paste
80g honey mustard
50g grape molasses
1 tbsp all-purpose flour
200 ml vegetable broth
4 tbsp parsley finely chopped
3 fennel bulbs
8 bacon slices
Salt
Freshly ground pepper
Boil the beans in plenty of salted water until soft. Drain and set aside. In the meantime, heat the olive oil and butter in a large, nonstick skillet over high heat. Sauté the onion and leek for 3-4 min, stirring constantly.
Add the tomato paste, honey mustard, and molasses. Sauté for another 2-3 min. Sprinkle skillet mixture with flour and stir until flour traces disappear. Finish with the white wine. Continue cooking until most of the wine has evaporated.
Add the vegetable broth and stir well. Transfer skillet contents into a heat-resistant, glass baking dish. Add beans and finely chopped parsley and fold into rest of ingredients.
On a cutting board, use a sharp knife to cut the fennel bulbs first in half lengthwise and then into thin slices. Preheat oven to 180°C. Arrange the fennel slices in a thin layer over the bean mixture. Bake for 35-40 min. Remove from oven. Turn oven temperature up to 200°C. Layer the bacon slices on top of the casserole. Bake for another 10 min until bacon is crispy and sizzling.