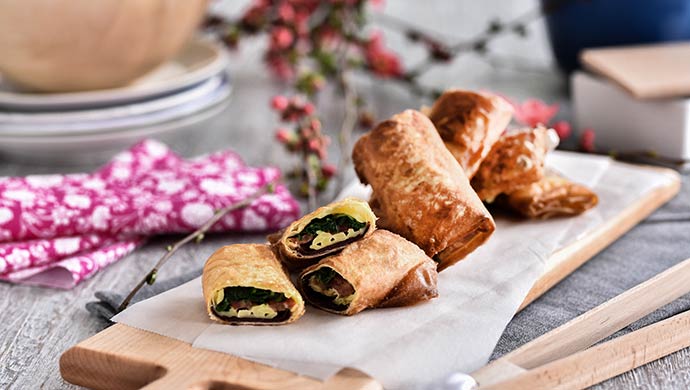 ---
Serves 8
1 Pillsbury package pastry sheets
14-16 pastourma slices
2 tomatoes
300g kasseri cheese grated
300g fresh spinach leaves well rinsed
2 tbsp olive oil
1 egg
Salt
Freshly ground pepper
Sunflower oil for the pastry sheets
On a cutting board, use a sharp knife to cut the tomatoes into quarters. Cut out the flesh and set aside. Cut the tomato rinds into thin strips. Grate the kasseri cheese.
Place a large, nonstick skillet on the stove. Turn heat to high. When bottom of skillet is well-heated, add the olive oil.
Sauté the fresh spinach until it is wilted and most of its moisture has evaporated. Transfer spinach into a colander and drain.
On your kitchen counter, spread the Pillsbury pastry sheets. Fold one pastourma slice in half. Place at the edge of a cut sheet. Top with a bit of grated kasseri, 2-3 tomato strips, and a little of the sautéed spinach. Roll folding the pastry edges inward.
In a small bowl, break the egg and beat well. Using a pastry brush, brush the pastry edges with the egg to seal. Heat 2 fingers of sunflower oil in a large, nonstick frying pan on medium heat. Fry the pastourma rolls on both sides for no longer than 2-3 min.
Transfer onto kitchen towels to remove excess sunflower oil.