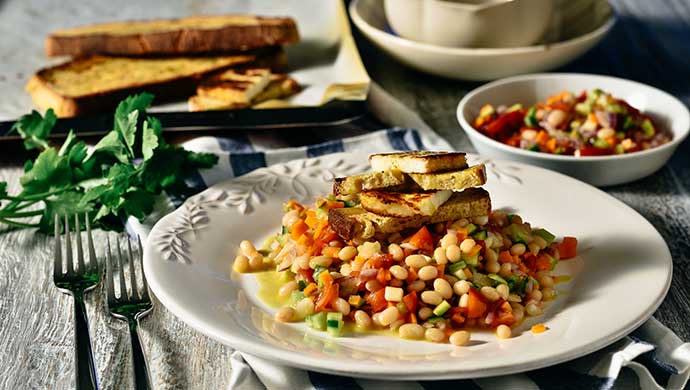 ---
Serves 4
400g Agrino 'vanilla' beans from Feneos
2 tbsp olive oil
20 cherry tomatoes
1 onion finely chopped
1 small cucumber
1 carrot
1 zucchini
1 fennel bulb
200g haloumi cheese
4 slices country-style bread
For the dressing:
150 ml olive oil
50 ml lemon juice
3 tbsp spicy mustard
2 tbsp honey
1 tbsp fresh oregano finely chopped
Salt
Freshly ground pepper
Boil the beans in plenty of water with 1 tbsp coarse salt for 40-45 min. Drain and cool them down by running cold water over them. Drain well and transfer into a bowl. Set aside. On a cutting board, dice the cherry tomatoes, cucumber, carrot, zucchini, and fennel bulb. Thinly slice the haloumi cheese and finely chop the onion.
Add all diced, sliced, and chopped ingredients to the beans in the bowl. Season with salt and freshly ground pepper. Set aside.
To make the dressing, whisk together in a small bowl, the honey, mustard, lemon juice, salt, and freshly ground pepper.
Gradually add the olive oil, whisking constantly until the dressing becomes thick and creamy. Season with the finely chopped oregano.
Drizzle the dressing over the salad and toss gently but thoroughly. Refrigerate. Heat the olive oil in a nonstick skillet over high heat. Fry the haloumi cheese on both sides until the cheese turns a light golden brown and releases its aromas. Arrange the country-style bread slices on a nonstick baking sheet, drizzled with a bit of olive oil and seasoned with salt and freshly ground pepper.
Grill the slices in the oven until lightly toasted. Serve the salad topped with the haloumi cheese and accompanied by the toasted country bread slices.